Life change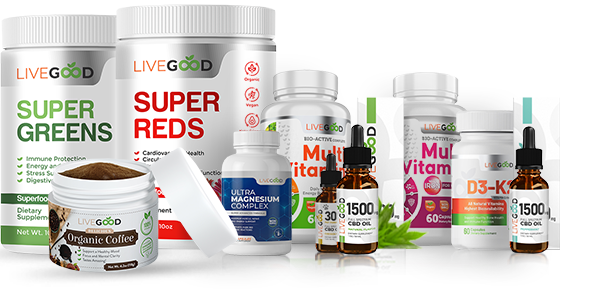 LIVEGOOD products and system will change your life !
The most powerful system in the industry
Products that sell themselves
A generous compensation plan
Life-changing results
A successful American company that was founded in 2021.
Right now, he is starting a new marketing model that gives absolutely everyone the opportunity to make money.
So even solitary people without the need to create their own network. No need to register anyone directly.
Even without the obligation to purchase the company's products.
Free registration with the option to unsubscribe at any time.
It will allow you to order products at discounted prices.
You can become an active member and earn a passive income with a payout every month.
Full access to all available tools and training can help you share products, build your team and generate high active income.
After a simple, non-binding registration, you will receive an email with a visible link, which you can click on and you will be able to go to your office on the website (you can also switch it to your language), go through everything about the project and the company and, most importantly, see how many other people from all over the world have automatically registered under you after your registration.
You will be taken to a page where you will see a countdown to the next position close - by this time you should have closed your position by buying it.
Click on "My Powerline" in the top menu and you will see more and more Pre-Enrollees and more and more PAID Members. 
If you decide to cooperate and earn, the cost at the beginning of the first month is 49.95 USD and then every month after that only 9.95 USD. USD per month. Or you can pay for the whole year with a 20% discount. You not only get an interesting passive income of up to 2047 USD per month, but also access to really big discounts, on quality products up to 75%. You do not have to purchase the products, but it is not a requirement.Payment is possible simply by credit card. Earnings are credited to the payout field of the set payout plan and can be withdrawn to a bank account, card, e-wallet or Bitcoin.
Commissions from the matrix - the main earnings for loners.
Once you register, you can see on your timer when you have until when to pay your membership and thus get your own business center, in a fast-paced matrix. As more people join LIVEGOOD each day, they are placed in a POD matrix of everyone already there, according to their registration date. So the sooner you pay your membership and lock in your position, the higher your position in the matrix will be. But if you don't pay your membership until your time in the office is up, the registered people you see there will be deleted and then new registrations will be added with the new timer.You will see the completed matrix after the positions are locked - that is, every Friday from 9:00 am.
If your monthly earnings are not enough and you want to earn more, you can recommend this project and company to other people. Not only will you help them, but you'll also get extra earnings and thus bigger paychecks.
---
The cost of membership is set at a fixed amount that just about everyone can afford, which is why LIFEGOOD has done so well and can pay its members without any problems. Nevertheless, we would like to point out the risks of investing on the internet and this type of project. Only invest amounts that you can afford. We are not a financial advisor and are sharing the above opportunity based on our own investment and experience.