Certification
All our products are made in the Czech Republic and their high utility value will ensure their long-term and trouble-free use. We work exclusively with quality tested materials made in the EU.
---
MASKS AND SCARVES
---
ASSURANCE

issued pursuant to the provisions of Section 13, Paragraph 5 of Act No. 22/1997 and Appendices, and in particular Recommendation of the EU Commission 2020/403 of 13 March 2020
In accordance with the above-mentioned law and recommendation, we issue this assurance that the product manufactured by us has a issued declaration of conformity, which has been prepared on the basis of test reports of the materials used.
Medical product:
in accordance with the following derived type:
NANO AGTIVE® face mask FIX
NANO scarf AGTIVE®
NANO face mask AGTIVE® SPORT
NANO scarf AGTIVE® SPORT
The product meets all requirements according to ČSN EN 14683 + AC.
The product has passed the SZU health assessment of 9.10.2020 No. CTZB 187-10478 / 20-191-193 as safe.
The products have been designed, manufactured and approved in accordance with the above laws, directives and ČSN EN standards and meet the requirements for the award of the CE mark.
It has been tested according to ČSN ISO 10993-5 and the used materials, nanofabrics and nanofilter are bacteriologically and citotoxically harmless and according to our issued recommendations are safe for users.
---
FILTER

---
The effectiveness of the Nano Med Clean filter against viruses has been confirmed by a certificate (VFE - Viral Filtration Efficiency) respected laboratory Nelson Labs in the USA. It is a thin fabric containing a nanofiber structure. Users can put it in a cloth drape to protect themselves all day long. It is light and highly breathable, so it makes breathing easier. Compared to other materials, the breathability reaches two hundred liters of air per square meter per second.
All production takes place in the Czech Republic. The effective time of the material is set at 12 hours. Compared to the competition, it differs mainly by the high degree of breathability, namely 200 l / m² / s.
Nanofilters are designed for insertion into textile drapes. The filter is CE certified and is registered at SÚKL as an accessory of a medical device.
Refer to Nelson Labs' VFE, BFE and PFE protocols and the Declaration of Conformity (CE) for reference.
---
CLOTHES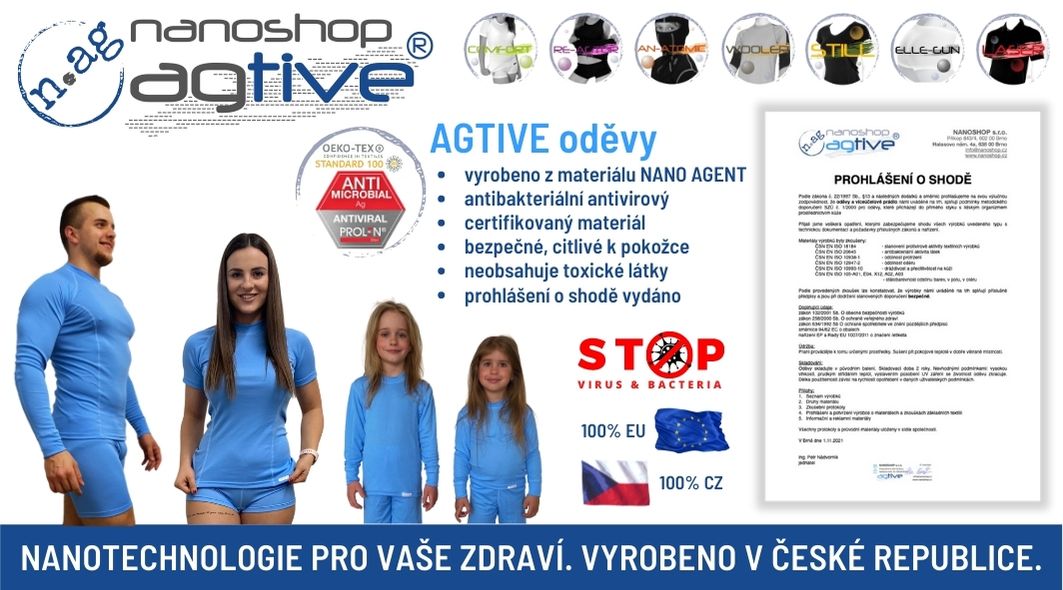 ---
The garments and multi-purpose underwear marketed by us meet the conditions of the SZÚ methodological recommendation No. 1/2000 for garments that come into direct contact with the human body through the skin, comply with the relevant regulations and are safe in compliance with the established recommendations.