CERTIFICATION - mask and scarf - AGTIVE®
AGTIVE® NANO drape and derived product types
complies with all requirements according to EN 14683 + AC, the products have been tested according to ISO 10993-5 and the materials, nanosheets and nanofilter used are bacteriologically and cytotoxicity free and according to our recommendations are safe for users
ASSURANCE

issued pursuant to Art. 13 para. 5 of Act No. 22/1997 and its amendments, and in particular Commission Recommendation EU 2020/403 of 13. march 2020
In accordance with the above law and recommendation, we issue this assurance that the product manufactured by us has been issued a declaration of conformity, which has been prepared on the basis of the test reports of the materials used.
Medical product:
in accordance with the following derived types: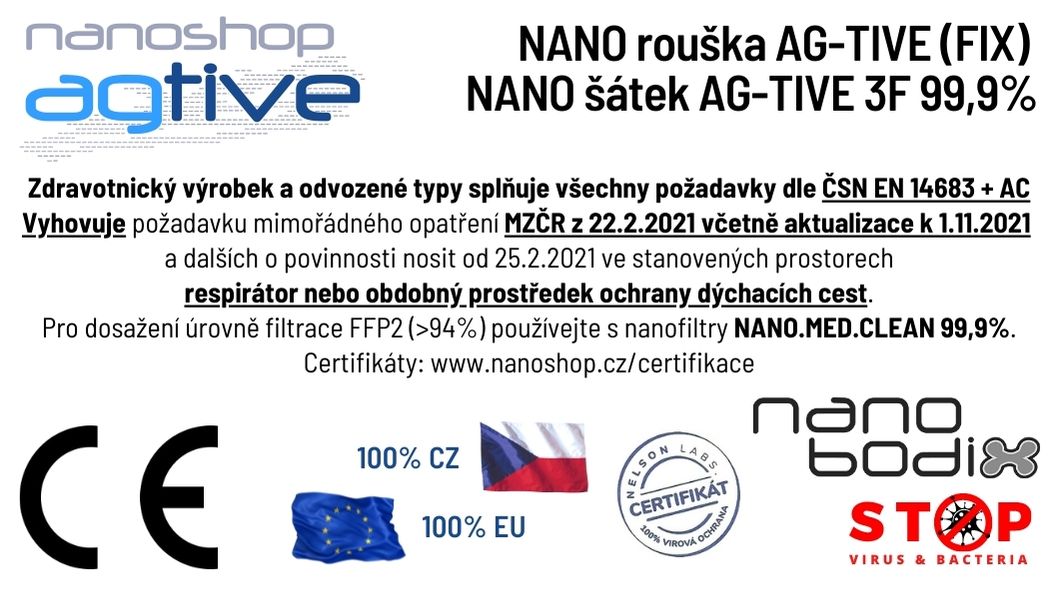 NanoBodix® AGTIVE drape FIX

NANO AGTIVE 3F 99.9%

NANO AGTIVE FIX drape

NANO drape AGTIVE SPORT

NANO scarf AGTIVE SPORT
Notes.:
3F = supplemented by 3 pcs of NANO filter.MED.CLEAN 99.9%
FIX = supplemented by nose fixation
The product meets all requirements according to EN 14683 + AC.
The product has passed the health assessment of the SZU dated 9.10.2020 CTZB No. 187-10478/20-191-193 as safe.
The products have been designed, manufactured and approved in accordance with the aforementioned laws, directives and ČSN EN standards and meet the requirements for the CE mark.
It has been tested according to ISO 10993-5 and the materials, nano-substances and nanofilter used are bacteriologically and cytotoxically safe and according to our recommendations are safe for users .