Standa Tikal - traveller
Functional underwear agtive: "... ideal under any clothes, does not get dirty and does not smell even for repeated use."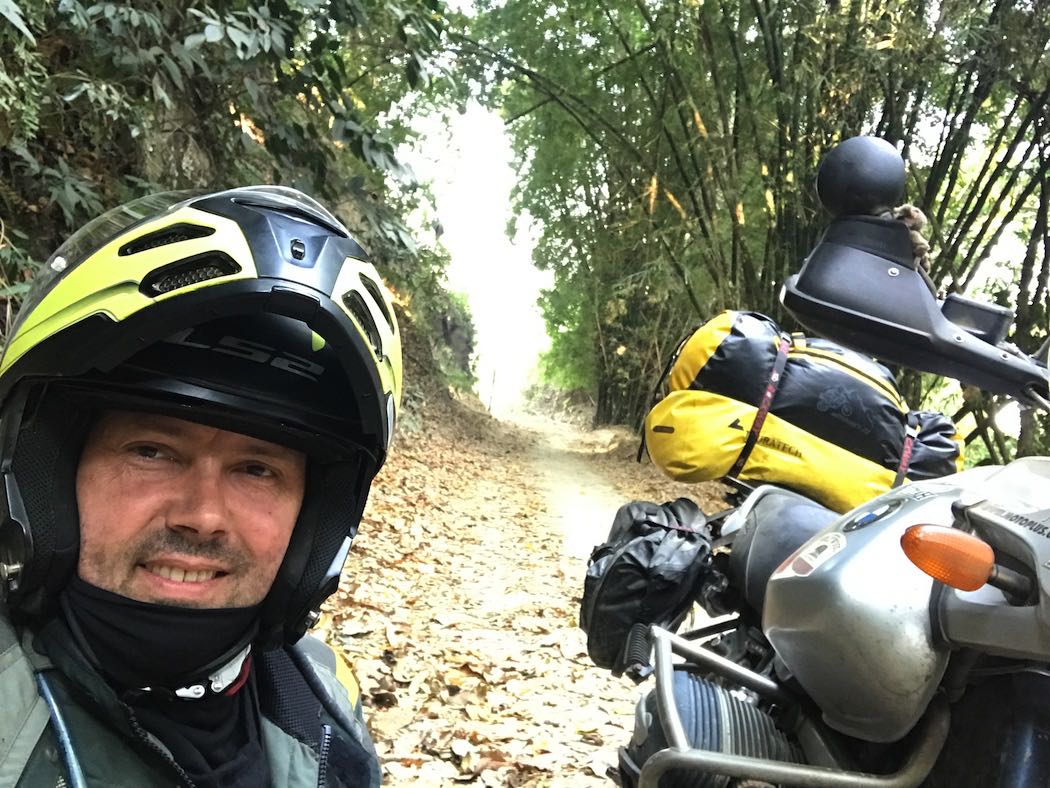 South America 2019 - Norway 2016 - Around Africa 2016 - Around Africa 2015 - Around Africa 2014 - Around Africa 2013 - Oman 2012 - Kyrgyzstan 2010 - Alaska 2009 - Sicily 2008 - Syria 2008 - Hungary 2007 - Andorra 2006 - Scotland 2005 - End of the World 2005 - France 2003 - Italy 2003
Stanislav Tikal - experiences from his travels around the world - preparation for his trip to the Land of Fire in December 2022
Back in 2017, we sent our motorcycles to Montreal, Canada and took a trip across the USA, where we visited all the national parks and enjoyed the amazing nature. The highlight of this trip was visiting San Francisco, Los Angeles and finally San Diego to get as close to Mexico as possible. There we left our bikes for one year in a rented "storage" and the next year we left San Diego and went on to Mexico. We visited the Baja California peninsula and continued across Mexico to Belize, Guatemala, Honduras, Nicaragua until we reached Costa Rica, where we wanted to leave our bikes for another year in San Jose. Unfortunately, we were unable to find adequate parking. The problem was administration. We had to leave motorcycles in a bonded warehouse in totally unsatisfactory conditions. For a year they were parked outside in a customs parking lot, and this year parking outside in the Central American climate gave the tech a lot of "flak". Fortunately, after our return in another 12 months, we managed to revive the machines and continue on to Panama.
After visiting Panama, we needed to get to Colombia, which is impossible to reach by land. We decided to send the motorbikes in a container over the sea and we went through the Caribbean on a rented sailboat. A week at sea was very exhausting for us. As Europeans, we are not used to rocking the boat. In short, we "vomited" our way to Cartagena, where we met our motorcycles after another week of administrative obstructions. The next trip was complicated by strikes in the south of Colombia, but fortunately our negotiations with the rebels went well and we managed to cross the border into Ecuador and fly home from the airport in Quito. Once again we left our bikes parked outside, at the mercy of the local climate. None of us knew that we wouldn't be back in a year, but much later because of the "Covid shutdown".
It's already autumn 2022 and I'm heading to Quito, Ecuador with my girlfriend to check the condition of a motorbike that has been parked involuntarily in Ecuador for 3 and a half years! I knew from Costa Rica what the weather can do to a machine after a year of standing still, so I didn't want to leave anything to chance before my next trip. I decided to devote a 14-day holiday to complete servicing of the bike and spend any free time travelling around Ecuador. My black expectations were fulfilled. I found the bike in a state of total scrap and started to disassemble and survey the damage. The electrics, tyres and complete fuel system are totally screwed! Luckily, I had brought a new battery, lots of tools and spare parts from home, so I set about repairing it and after a week of work I managed to get the bike back to life. The joy was huge! However, I parked the motorbike back in its place and we set off around Ecuador with the rental car. On our next return in two months we will not linger any longer, we will just pass through Ecuador and continue on to Peru as quickly as possible. 
Ecuador is a beautiful and specific country. As the name suggests, it lies on the equator. This means that there are practically only two seasons - spring and summer. The day is split exactly in half, with dawn breaking quickly at 6am and darkness falling quickly at 6pm. At night it is pleasantly cool around 12-15 degrees and during the day the temperatures can rise up to 26 degrees, which is fine. The only difference from what we're used to is that you're actually at an altitude of over 2,500 metres above sea level from the moment you arrive at Quito airport. m. and wherever you go, as long as it's not to the Pacific coast, you're constantly this high and often higher - 3000 to 4000 m above sea level. m. Of course, this means that temperatures are much lower throughout the 24 hours. For example, we are at an altitude of 3900 m.n.m. at the flooded volcano Quilotoa, they experienced a temperature of 3 degrees Celsius and were very happy to drown in the stove in their room. In these varied temperature conditions, the Nano COOL lightweight underwear has worked well for us, whether used for sleeping or during the day. In the evening or in the mountains we used TERMO functional underwear. The great advantage of this laundry is immediately noticeable when you need to wash your clothes. It dries very quickly in the sun and is ready for further use. I myself have been using Nano Agtive underwear since 2010, when I travelled to Kyrgyzstan in it. Because it was so useful, I also used it when we did the "Around Africa" project in 2013-2015, when we drove around the whole African continent and covered about 40,000 kilometres. Of course, the things I use have worn out a lot over the years. But it certainly doesn't detract from their functionality. 
If everything goes according to plan, we will go from Ecuador to Peru and then to Chile in December and if the technology works and we can manage everything physically and temporally, we will try to reach the Land of Fire. Our destination will be Punta Arena in Argentina. If there are any problems, we will only go as far as Chile, from where I have arranged for the bike to be transported back to Europe. It's going to be a bit of a time crunch, but I'm confident that we can do it. In 2009, I visited Alaska and Prudhoe Bay, the northernmost place in North America, and I would like to reach the southernmost - the town of Ushuaia.

Selected category does not contain any products